Managed Detection and Response Services
Skilled Security Teams and Advanced Threat Intelligence that Stop Attackers in Their Tracks
Boost Cyber Resilience
To outsmart attackers, speed is everything. When threats are detected earlier, the risk of a destructive breach is mitigated and your cyber resilience improves.
ProArch's Managed Detection and Response Services (MDR) are a true extension of your team. Our experienced threat hunters and security analysts respond to malicious activity 24/7 stopping threats before damage occurs.
Our rapid deployment process takes hours, not weeks- so you don't have to go another day unprotected from attacks.
Protect your infrastructure, reputation, and bottom line.
Depend on a 24x7 team and a plan backed by experts for reducing risk
Have the intelligence to stay ahead of threats and know where your risks are
Operate with a more predictable security spend and improve return on security investment
Pinpoint attackers across multi-cloud, on-premises, operational technology (OT), IT, and IoT
Deliver reports to leadership backed by data and expert recommendations
Managed Detection and Response (MDR) Services
How MDR Works
Data Collection: Threat detection sources and sensors are deployed across networks, cloud services, endpoints, and identities collecting and analyzing telemetry- making it possible to track down root causes quickly.

Enrich: Threat intelligence turns raw data into contextual information that surfaces early detections and prioritizes alerts. Alerts can be triaged through intelligent workflows that resolve threats or escalate to SOC analysts.

Investigate Cases: Security Analysts perform a thorough evaluation to understand the attacker's motives, determine the root cause of compromise, and put defenses in place.

Respond to Threats: In the event successful compromise does occur, our Incident Response Team steps in to recover and rebuild systems.
"We've made a lot of big strides on the security side in the last year, and ProArch has been a big part of that."
MDR Features
24x7x365 SOC Monitoring
ProArch's Security Operations Center operates around the clock performing threat hunting, investigation, containment, eradication, and escalation to full Incident Response.
Extensive Threat Analysis
Security Analysts perform a thorough evaluation using contextual threat intelligence to get a deeper understanding of the behaviors and techniques of attackers to get to the root cause of compromise and put defenses in place.
Security Incident Response
Seamlessly transition to ProArch's Incident Response Team that includes architecture experts, senior engineers, and project management who:
Re-build compromised systems and data
Collaborate with legal and government agencies
Implement security hardening measures
Proactive Risk Management
ProArch acts as an extension to your team working alongside you to reduce risk and improve security posture long-term.
Coordinate with IT to contain an attack
Provide evidence for legal and regulatory purposes
Quarterly reporting that improves security posture long-term
Communicate vulnerabilities that require action (ex: patches)
Root cause analysis and control recommendations
Security incident log data and reporting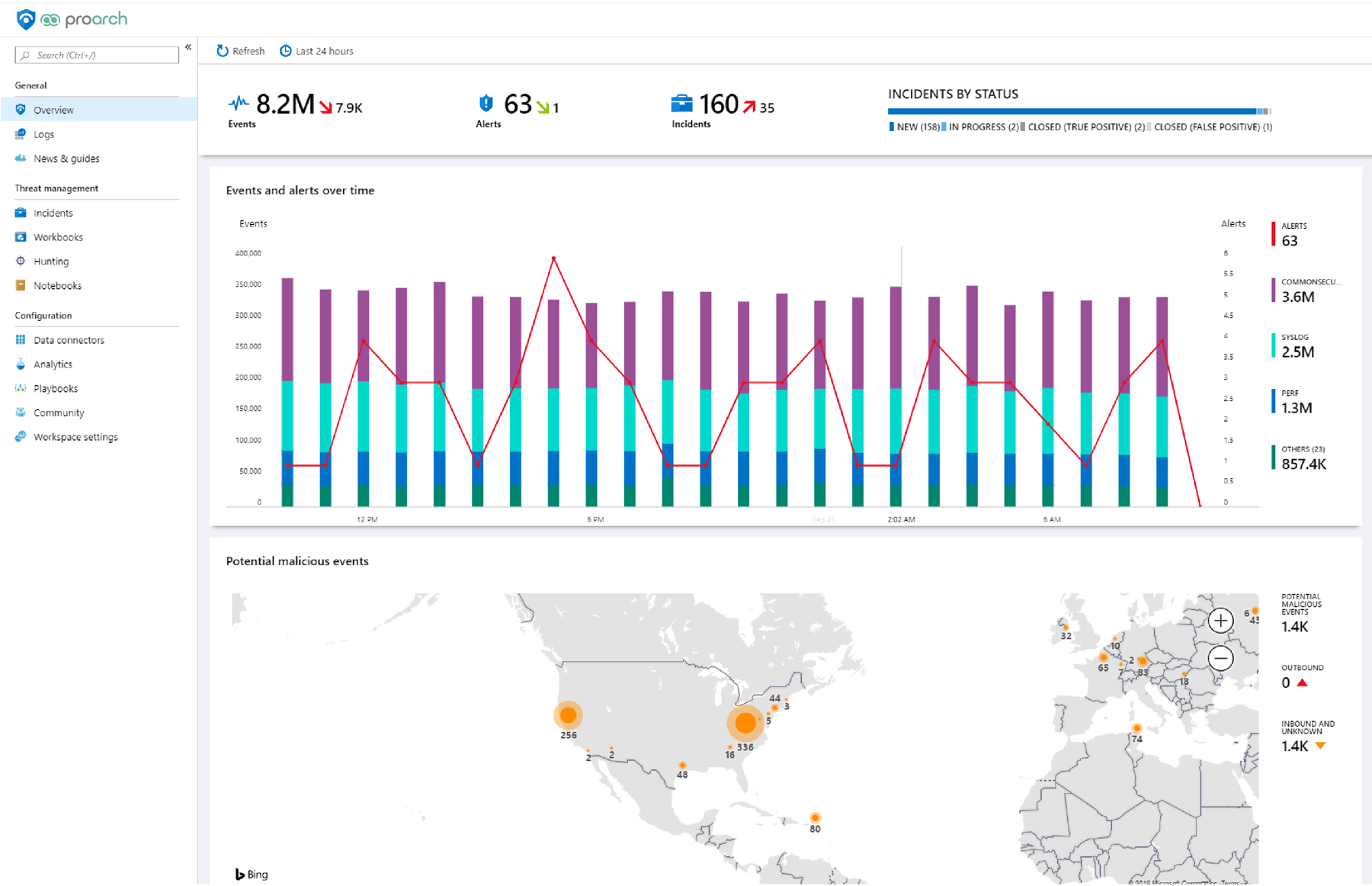 Managed Detection and Response Services Comparison Guide
FAQ
What remediation actions will the SOC take on behalf of the client?
The SOC remediates and responds to threat activity within its capabilities and integrated systems. Quarantining a system, restricting application execution, creating an investigation package, and performing advanced threat hunting to determine root cause are all handled by the SOC. In the case that a patch or other engineering function is required then the SOC communicates responsibility to the client. If successful compromise does occur, then transition to ProArch's Incident Response Team takes place.
Do I still need an incident response plan if I have MDR?
MDR is not a replacement for an incident response plan. Although ProArch can perform incident response, those recovery and rebuild services are not included in the cost of MDR. It is important to have documented recovery playbooks that outline actions to be taken by members of your team, like contacting legal representation and restoring backups.
Does MDR replace the need for other security services?
With security there is never a 100% guarantee. MDR is not 'all encompassing' when it comes to all the elements of a mature security program. Security leaders must account for activities like vulnerability management, awareness training, pen testing, incident response planning, compliance, and security of specialized environments. ProArch's Security Team can assist with all of these components.