Navigating the Future of Manufacturing
June 22, 2023
Navigating the Future of Manufacturing
Manufacturing leaders are constantly seeking to improve their operations, maximize their resources and deploy the latest technology to better serve their stakeholders. To do that, it's important to understand the future trends of the manufacturing industry. Deloitte's 2023 Manufacturing Industry Outlook report provides a comprehensive look into economic and technological changes that will transpire and how they will impact the industry.
With insights into emerging risks and opportunities, this report serves as an essential guide for manufacturing leaders to stay ahead of the curve. In this blog post, we'll delve into some of the key takeaways from the report and how manufacturers can apply such findings to their own business strategies.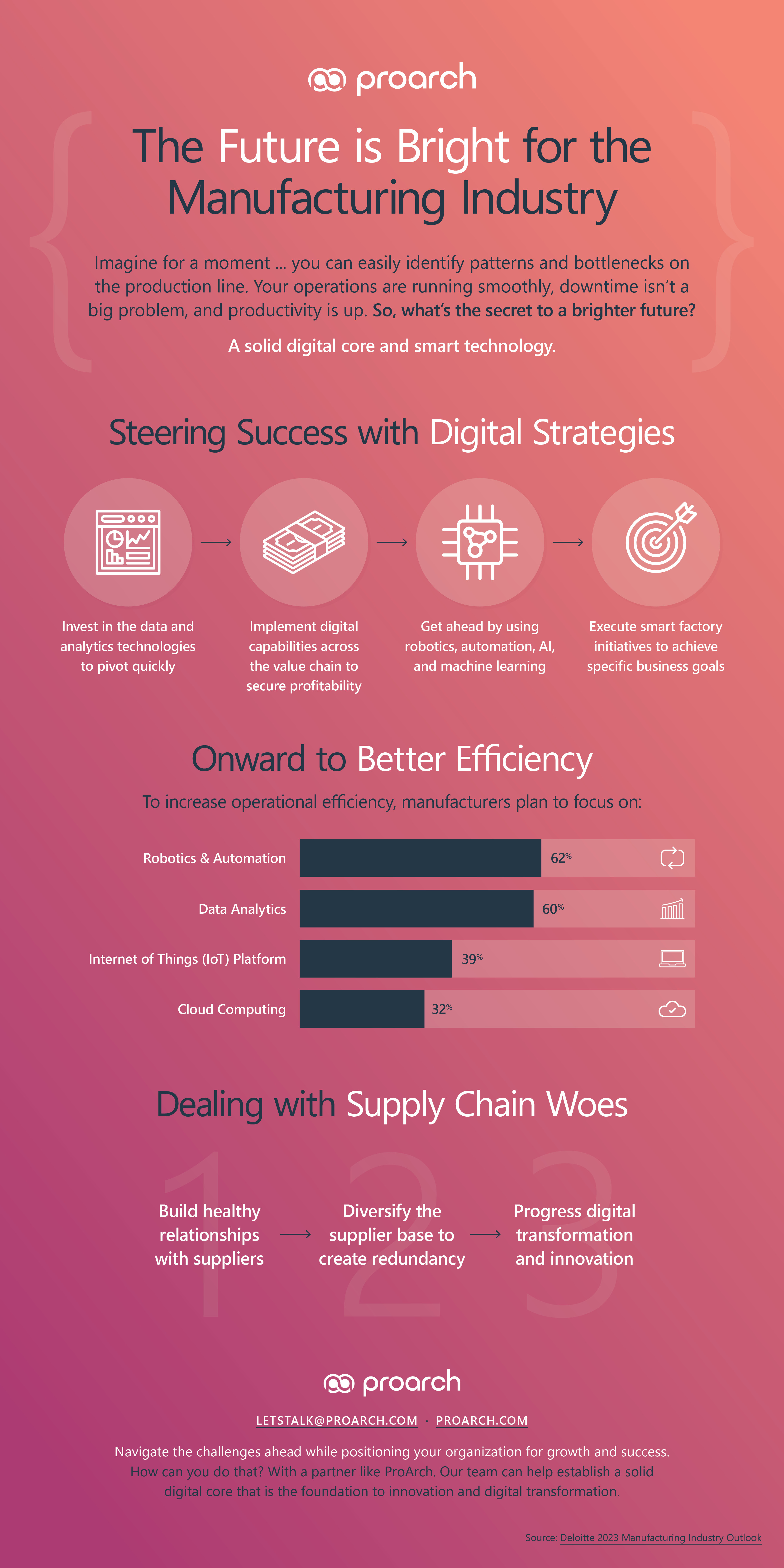 Reshaping Manufacturing with Digital Transformation
Manufacturers have been increasing their investment in digital technologies and adopting emerging technologies at a faster pace in recent years. Over the next twelve months, manufacturers plan to focus on robotics and automation (62%), followed by data analytics (60%), and cloud computing (32%). Companies that have higher digital maturity and accelerated their digitalization during the pandemic have shown greater resilience compared to those with limited digital capabilities.
According to Deloitte, "Manufacturers that leverage advanced analytics, artificial intelligence, and machine learning will be best positioned to optimize their operations and profitability." Manufacturers are recognizing the importance of digital investment and are leveraging advanced technologies to enhance their resilience, adaptability, and long-term profitability in the face of uncertainty. Now is the time to invest in a solid digital core grounded in cloud computing to remain competitive in the market.
Supply Chain Resilience
The COVID-19 pandemic has exposed how vulnerable the global supply chains are. The shortage of critical materials and ongoing supply chain disruptions are seen as the biggest uncertainties for the industry in the coming year.
Manufacturers are embracing digital capabilities to enhance supply network visibility, control, and coordination. These technologies enable better supply chain recalibration and assurance during disruptions. Innovation and digital transformation are increasingly important for achieving supply assurance in future disruptions.
The Future of Work
Automation and Artificial intelligence (AI) will change how we work significantly in the coming years. "Manufacturers must rethink their workforce strategies and place more emphasis on upskilling their current workforce, attracting and retraining new talent, and creating a culture of innovation and collaboration."
Manufacturers are increasingly embracing smart factory initiatives to enhance their competitiveness. Once the digital core is established, manufacturers are investing in disruptive technologies like augmented reality (AR), artificial intelligence (AI), Internet of Things (IoT), additive manufacturing, blockchain, and advanced analytics. These technologies are being utilized for various purposes such as employee training, quality control processes, and creating a seamless virtual reality experience.
Of course, as these new technologies are adopted, cybersecurity solutions need to be considered every step of the way. "Increasing monitoring efforts to check for abnormal behavior of information technology and operational technology as quickly as possible can prevent catastrophic damage." Manufacturers also need to account for OT security best practices and the growing risks associated with IT/OT convergence.
The Importance of Sustainability
As consumers become more environmentally conscious, sustainability will become a top priority for manufacturers. "Manufacturers must adopt more sustainable practices throughout their operations that focus on reducing the carbon footprint and promoting environmentally sustainable practices," according to the report.
This shift towards a circular economy which includes recycling, waste reduction and products and packaging designs that can be repurposed means that not only will manufacturing organizations benefit from reduced costs, but it can also attract new clients by meeting their expectations and needs.
Innovation Focused on Meeting Customer Needs
Manufacturers that focus on customer-centric innovation will be better positioned to succeed in the coming years, according to the report. By using data analytics and AI to understand the needs and expectations of their customers, manufacturers can create products and services that offer value, increase quality, and improve the customer experience.
The report advises that "Manufacturers must put their customers at the center of their innovation efforts. Selective technologies such as digital factories or using Digital Twins will become an essential part of a company's innovation efforts". This means that manufacturers need to spend time interacting with their customers, understanding their needs and investing in innovative technology that can provide solutions to meet their customers' needs.
The manufacturing industry will continue to undergo acceleration and significant changes over the next few years. Technology, innovation, sustainability, and supply chain resilience will be the factors that will shape the industry. Manufacturers that incorporate technology and digital transformation, focus on customer-centric innovation, and build a resilient supply chain will remain competitive in the market.
ProArch makes operational and strategic improvements that advance manufacturers journey to greater agility, enhanced resiliency, and better decision-making. Our manufacturing it services and consulting enable you to leverage technology in ways that position you for growth and success.