Endpoint Detection and Response
Protect devices that could be an open door to accessing systems and data.
Total Endpoint Threat Visibility & Response
ProArch's Security Operations Center (SOC) keeps watch 24/7/365 for malicious activity targeting workstations, servers, virtual machines, and mobile devices.
We not only enable your organization to protect against endpoint threats in real-time but also to proactively stay ahead of them with a stronger and more resilient security posture.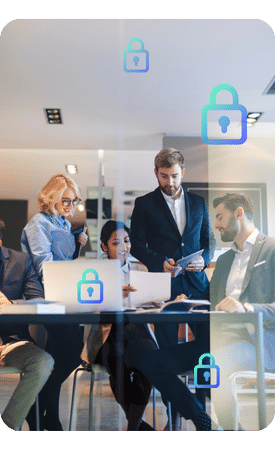 24/7 Endpoint Threat Detection & Response

65% Reduction in Notification Fatigue & Alert Noise

Fast & Automated Deployment & Updates

Integration with Existing EDR Deployment
What's Covered
IT and OT Networks
Servers: Linux and Windows
Workstations: Linux, Windows, and MacOS
Mobile Devices: iOS and Android
What's Included
24x7 Security Operations Center threat monitoring, investigation, containment, and remediation.
Quarterly Reporting with meetings to review risk posture and plan for improvements.
Incident Response team who takes action to minimize downtime and damage in the event of compromise.
Is EDR right for you?
If you answer 'yes' to these questions, we should talk.

Lacking threat investigation and response skills?
Need to enhance the existing attack surface program?
Is the current EDR solution volume of alerts unmanageable?
Struggling with endpoint protection platform management, upgrades, changes, and optimization?
Seeking strategic guidance for long-term risk reduction?
Required to adhere to regulatory compliance requirements?
Using regular patch cycles without understanding criticality and risk?
Lacking visibility into emergent threats?
Experienced a malware or ransomware attack?
"For us, it came down to, 'Who do we think the best long-term security partner is going to be?' The answer to that question is ProArch."
-CIO, Healthcare
Endpoint Detection and Response FAQs
What is Endpoint Detection and Response?
Endpoint Detection and Response is part of ProArch's Managed Detection and Response services. EDR continuously detects the events and behaviors of desktops, phones, workstations, tablets, and servers. It provides a holistic view of correlated events and data to prevents attacks, such as zero-days, malware, and ransomware.
When a breach is detected in your infrastructure, the security operations center (SOC) performs threat hunting and investigation to contain the threat before it affects your environment. Plus, auto-remediation capabilities block and isolate endpoints and eliminates false positives in real-time.
What is the EDR deployment timeline?
ProArch's EDR is a 100% cloud-based solution. Deployment is done remotely, and depending on the criticality of the situation, can be deployed in a matter of days.
What remediation actions does the SOC perform?
The SOC remediates and responds to threat activity within its capabilities and integrated systems. Quarantining a system, restricting application execution, creating an investigation package, and performing advanced threat hunting to determine root cause are all handled by the SOC. In the case that a patch or other engineering function is required then the SOC communicates responsibility to the client. If successful compromise does occur, then transition to ProArch's Incident Response Team takes place.
Is cybersecurity incident response included?
Although ProArch can perform incident response, those recovery and rebuild services are not included in the cost of EDR. An incident response retainer is required to utilize the ProArch Incident Response team. It is important to have a documented incident response plan that outline actions to be taken by members of your team, like contacting legal representation and restoring backups.
Is EDR customizable?
Absolutely. Every organization has different requirements, budgets, and risk appetite. We structure the program for each client and can add on services like vulnerability management, security awareness training, annual VAPT, and more.