ProArch Marries Business Savvy and Technical Expertise for Insurance Agency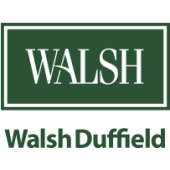 About Walsh Duffield Companies, Inc.
An independent insurance agency with three locations in New York State, Walsh Duffield educates and aligns businesses with their best insurance options. The company works with businesses in all industries, from nonprofits to manufacturing and everything in between.
Solutions Used:
Security Managed Services
NYDFS Requirements
Data Governance
Infrastructure and Network Upgrades
Cloud Readiness Assessment and Strategy
Microsoft 365 Migration
SharePoint Design
A Need to Align IT Efforts with Business Strategy
Along with traditional commercial and personal insurance, Walsh Duffield helps their clients evaluate cybersecurity coverage. When cybercrimes started accelerating a few years ago, it was very clear: They needed to ensure their own IT was top notch.

"As Ransomware threats increased, we wanted to make sure our organziation and our clients were protected by assessing the need for cyber insurance." says Patricia Deibel, vice president of finance and administration at Walsh Duffield.

While they had a reliable in-house IT team, they needed to deepen their capabilities to tackle their larger-scale projects, migrate to the Cloud, and ensure their IT efforts were aligned with their overall business strategy. And when the New York Department of Financial Services (NYDFS) released its cybersecurity regulations in 2017, they knew they would need external help with compliance.
The company is always looking for ways to improve the customer and employee experience, and they knew a partner could help. They started looking for a long-term partner and after research and evaluation, they chose ProArch.
Tactical and Strategic Help
Throughout their relationship with Walsh Duffield, ProArch has offered tactical and strategic help, collaborated on strategy development and execution, and become a go-to partner for delivering increased value for internal users and external customers.
Starting the Path Forward
Walsh Duffield first engaged with ProArch in 2016, bringing them on to both offer guidance and assist with implementation. Some of these projects included the following:
Migrating to Office 365 and replacing their intranet with SharePoint Online
Upgrading infrastructure and network: servers, firewalls, switches, storage, and PC refreshes
Managing risk and improving security posture through Attack Surface Reduction Managed Services
Assessing cloud readiness and planning a strategy
Aligning the discovery, rules, and monitoring of sensitive data through data governance
Strategy Development and Execution
The first years of the engagement helped the two teams develop a solid relationship, so when the newest NYDFS cybersecurity regulations were released, both teams were ready to work together on a strategy to help Walsh Duffield be compliant.
ProArch started by conducting an assessment of the company and coming up with a long-term plan which included a cloud initiative.
"Michael and Matt [Walsh Duffield's ProArch consultants] analyzed the products we were using and their security practices, helped us with planning, and looked at the documentation that was provided to make sure it was a good fit for our security products," says Craig Politowski, information systems technician at Walsh Duffield.
Digital transformation isn't easy, but ProArch helped Walsh Duffield design and execute a plan tailored to their needs, priorities, and budget. With a cloud infrastructure in place, the team had the modern tools and flexibility they needed to manage their data at scale.
Ongoing Partnership
The ProArch team and the Walsh Duffield team met together frequently to discuss where they wanted to end up, both in the short term and the long term.
"We don't have a large IT team, but it's almost like ProArch is in-house," says Politowski. "They help us a lot faster than we could alone." For example, ProArch's chief innovation officer, Michael Montagliano, acts as a vCIO for Walsh Duffield to help them perform functions they couldn't otherwise.
"Michael helps us determine what makes sense, what's affordable, and what's a reasonable plan, strategy, and timeline," says Deibel. "He has taken the time to learn about our business".
Part of the help ProArch offers comes simply from knowing what to do first.
"They do a great job of helping us prioritize," says Ahndraya J. Weeks, client relationship manager—commercial division at Walsh Duffield. "There's so much we've done and that still needs to be done. It's not just about budget and cost, but what needs to be done and in what timeline."
Throughout the ongoing relationship, ProArch has offered strategic advice and hands-on assistance for many initiatives. Some of these have included HIPAA, PCI, and NYDFS compliance, cloud management, third-party provider support, and cybersecurity awareness training. ProArch has also monitored Walsh Duffield's servers, desktops, and Office 365 for suspicious activity. With this assistance, the company is confident that technology upgrades are in the ecosystem properly and that they are prepared for any challenges that may arise.
A Strong IT Strategy Aligned with Business Goals
ProArch has delivered a balanced approach that helps Walsh Duffield find excellent IT solutions that are also compliant and make business sense. Staying compliant with regulations is crucial in part because it helps the company make confident decisions and maintain their reputation as a trustworthy service provider. ProArch provided the support and expertise needed to make those benefits a reality.

"Michael brings not only vast knowledge and technical expertise, but also a knowledge of NYDFS in itself, HIPAA, and the new Shield Act that came out," says Politowski. "He knows how to marry the two together and provide solutions we need to make sure that we're protected."
As a result of their engagement with ProArch, Walsh Duffield has realized the following benefits:
Becoming compliant with NYDFS, HIPAA, and PCI DSS
Achieving tighter overall cybersecurity
Proactive monitoring of malicious activity across their network
Moving to the Cloud
A more secure infrastructure, increasing customer confidence
On-going system maintenance and support
"We all work together. We tell them our concerns; they tell us theirs. They look out for us. There's a level of confidence and comfort there. They're not trying to sell us something we don't need—they're really here to help us and our customers!"