What You Need to Know About Microsoft 365 Copilot
June 29, 2023
What You Need to Know About Microsoft 365 Copilot
Last Updated 7/6/2023
Today's workers are challenged to find the time to be productive. In the 2023 work trend report, Microsoft released some interesting statistics, 57% of Microsoft 365 users spend their time in communication tools (Outlook, Teams Chat, and Teams Meetings), and 43% of their time is spent on creation tools such as Word, PowerPoint, Excel. This constant need for communication leaves less focused time to do the day and day work needed.
How do we adapt and remove this digital debt and let our brains process it all? How do we innovate quicker and do task-switching less? One of the most promising developments to solve this is the recent announcement of Microsoft 365 Copilot—a solution combining large language models (LLMs) with your data to enhance productivity like never before. This blog will cover what we know about Microsoft 365 Copilot so far and how your organization can prepare for its release.
What is Microsoft 365 Copilot?
Microsoft 365 Copilot is a sophisticated processing and orchestration engine that provides AI-powered productivity capabilities by coordinating the following components:
Large language models (LLMs)
Content in Microsoft Graph, such as emails, chats, and documents that you have permission to access.
The Microsoft 365 apps that you use every day, such as Word and PowerPoint.
According to Microsoft, "Copilot is more than OpenAI's ChatGPT embedded into Microsoft 365. It's a sophisticated processing and orchestration engine working behind the scenes to combine the power of large language models (LLMs), including GPT-4, with the Microsoft 365 apps and your business data in the Microsoft Graph — now accessible to everyone through natural language."
What does Microsof Copilot do?
Microsoft 365 Copilot is an AI-powered productivity tool that uses large language models (LLMs) and integrates your data with the Microsoft Graph and Microsoft 365 Apps. It works alongside popular Microsoft 365 Apps such as Word, Excel, PowerPoint, Outlook, Teams, and more.
One of the most exciting features that Copilot bring is Microsoft 365 Chat. "Microsoft 365 Chat is the new hero experience for Microsoft 365 Copilot and goes far beyond simple questions and answers. It combs across your entire universe of data—all your emails, meetings, chats, documents, and more, plus the web—to solve your most complex problems at work."
This summarized data can then be incorporated into emails for the team or included as slides in a presentation. It also includes footnotes to show where it sourced particular data.
You will interact through prompts such as the following.
"Summarize the chats, emails, and documents about last night's Cotoso escalation."
"What is the next milestone on our Security Modernization Project? Were there any risks identified? Help me brainstorm a list of some potential mitigations."
"Write a new planning overview in the style of ABC document that contains the planning timeline from ABC presentation PowerPoint and incorporates the project list in the email from Joe Smith."​​
How does Microsoft 365 Copilot work?
To be clear, Copilot is not calling the public OpenAI service that powers ChatGPT. Microsoft 365 Copilot uses its own private instances of the large language models hosted in the Microsoft Cloud. Copilot combines LLM, Microsoft Search, and Microsoft Graph.
Microsoft Search retrieves information from across Microsoft 365 apps to feed the prompts. Then, Microsoft Graph adds additional information about the relationships and activities over your organizaiton's data.
For example, if someone asks, "Did anything happen yesterday with James?" An LLM alone can't answer this question. The Copilot uses information from Microsoft Graph like meetings, email threads, and document sharing to formulate a cited response.
When will Microsoft 365 Copilot be released?
On September 21, 2023 Microsoft announced the release dates.
Microsoft Copilot in Windows will be available on September 26.
Microsoft 365 Copilot release date is November 1 for enterprise customers.
What are the different Copilots?
Copilot in Word. Microsoft 365 Copilot in Word aids in writing, editing, summarizing, and creating content. Given a brief prompt, it can draft an entire document, pulling in information from your organization as needed. It can also add content to existing documents, summarize text, and rewrite sections to make them more concise. Imagine being able to draft a two-page project proposal based on data from a document and a spreadsheet with just a simple command​​.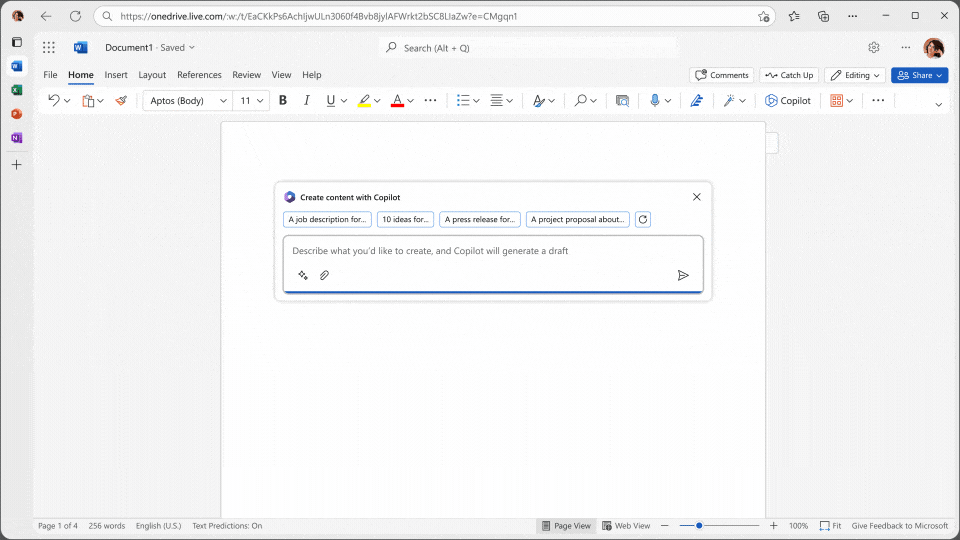 Copilot in Excel. Copilot in Excel enables you to analyze and explore your data more intuitively. Ask Copilot questions about your data set in natural language, and it will reveal correlations, propose what-if scenarios, and suggest new formulas based on your questions. For example, you can ask it to give a breakdown of sales by type and channel or model the impact of a variable change on your gross margin​.
Copilot in PowerPoint. Copilot in PowerPoint assists in turning your ideas into stunning presentations. It can transform existing documents into complete presentations with speaker notes and sources or start a new presentation from a simple prompt or outline. It can even condense lengthy presentations at the click of a button and adjust layouts, reformat text, and time animations with natural language commands.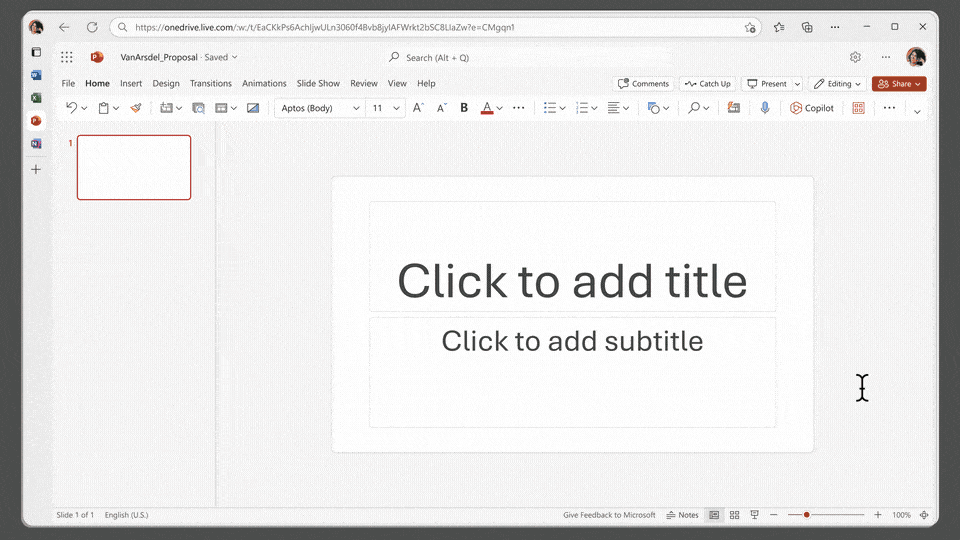 Copilot in Outlook. Copilot in Outlook helps manage your inbox and messages more efficiently. It can summarize lengthy email threads, help you understand different viewpoints, and answer open questions. It can also draft professional messages for you, pulling from other emails or content you can access across Microsoft 365​.
Copilot in Teams. Copilot is also integrated into Microsoft Teams, helping to manage meetings and communications effectively. It helps you keep track of your schedule, prepare for meetings, and follow up on action items. This reduces the time spent organizing and allows you to focus more on productive discussions.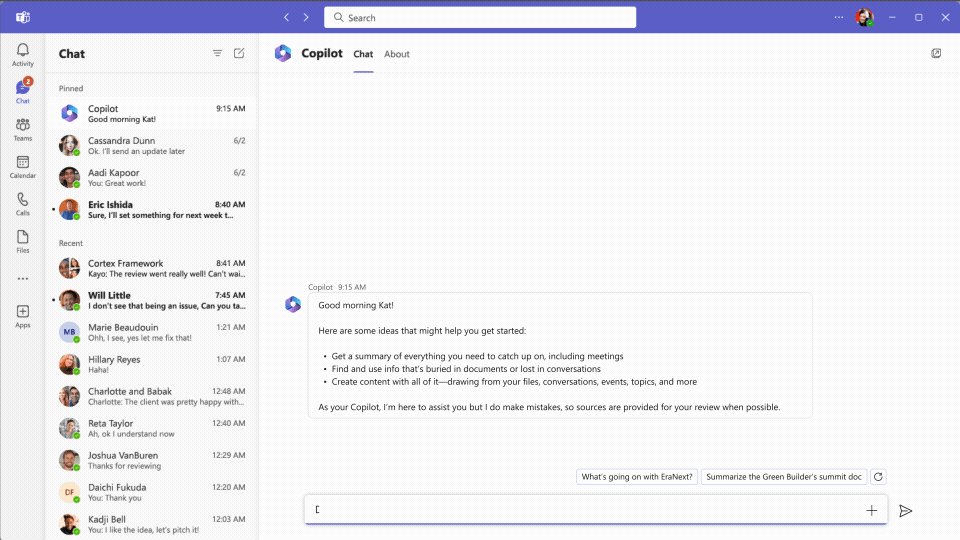 What are Microsoft 365 Copilot license requirements?
To leverage Copilot when it becomes commercially available will require a foundational Microsoft 365 E3 or E5 license and an Azure Active Directory account. For SMB Customers, Microsoft 365 Business Premium or Business Standard will be required. EDU A3 and A5 licenses do not apply as a base license option.
How much does Microsoft 365 Copilot cost?
You're probably wondering at this point, "Is Microsoft Copilot free?" Unfortunately, no. At Microsoft Inspire in July 2023, Microsoft announced the pricing details. The cost is $30 per user per month as an add-on to their business SKUs, including Microsoft 365 Business Standard, Premium, E3 and E5.
That being said, you do not have to buy Copilot for every user. It's actually expected that you won't. This is where your AI strategy begins, deciding who within the organization will see the most value and ROI from Microsoft 365 Copilot.
Microsoft's CFO Amy Hood said, "When we believe we're adding a lot of value, and frankly, that's what the Copilots are doing and some productivity improvement, you can expect that we will have a list price for those."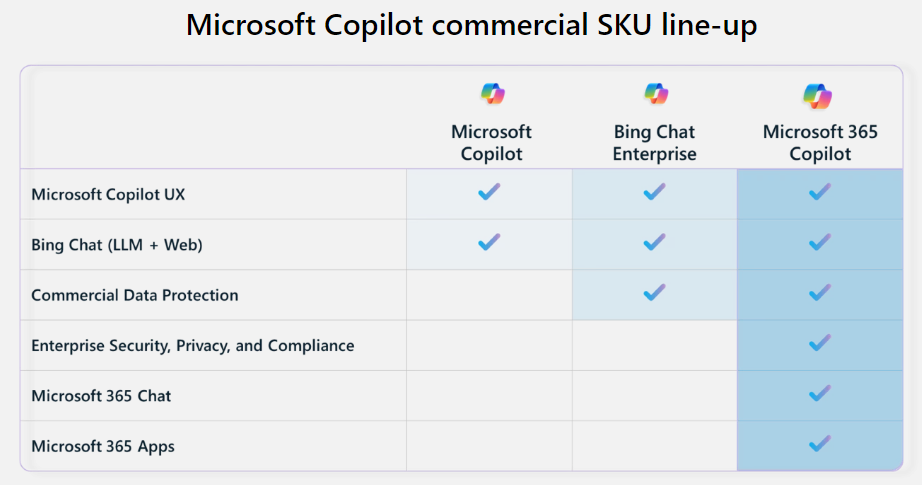 How to Prepare for Microsoft 365 Copilot
How can you prepare for the Copilot launch and maximize your business productivity?
First, you need to have a digital foundation to support Copilot.
Move to Microsoft 365 for your productivity tools (OneDrive, Exchange Online, SharePoint).
Update your device hardware and operating systems (Windows 11).
Enable modern management (Intune).
Enable modern communication platforms (Teams and voice).
Use Microsoft 365 E5 for advanced cloud security.
Once you have the foundational tools in place you'll need to:
Check and refine SharePoint and Teams lifecycle policies.
Rethink SharePoint and Teams structure and access rights.
Update your Active Directory.
Check and refine your organization's document management and privacy policies.
Organize and cleanse data.
Create an AI policy. Use this AI policy template to get it done.
Create straightforward instructions and train people where to store documents and how to share them in a correct and safe way.
Microsoft 365 Copilot represents the future of work—where AI collaborates with humans, making work more productive and satisfying. It's not just about doing more work in less time; it's about doing more meaningful work and letting AI handle the rest.
ProArch is a top Microsoft Partner and Microsoft Managed Partner. We can help you get ready for Copilot with our Microsoft 365 Copilot Readiness Assessment. Maximize your Microsoft 365 investment and leverage the revolutionary potential that Microsoft Copilot has to offer.