Every organization is under pressure to create a safe environment for people to return in the wake of COVID.
One of the most critical elements of a COVID-19 re-entry plan is a solution for symptoms screening and tracking. Reduce the chances of a widespread outbreak by knowing who has experienced symptoms in real-time with a COVID Health Screening Application.
COVID Health Screening and Tracking Application
With a COVID Health Screening Application, you have the data and real-time intelligence to know who has experienced coronavirus symptoms and understand those trends over time.
Know immediately if anyone has experienced symptoms
Ensure those with symptoms do not enter premises
Ensure those recently travelled to restricted geographies do not enter the premises
Provide contextual tracking data to assist tracing
Configurable roles, branding, disclaimer, questions and messaging
How the app works
Usable from desktops, tablets and modern smartphones​, the application initiates a self-assessment survey for assigned users and anyone entering a facility.
The survey asks, 'have you had any of these symptoms in the past 24 hours that are new or not usual for you?' And then shows a list of symptoms: fever, cough, hard time breathing, sore throat, body aches.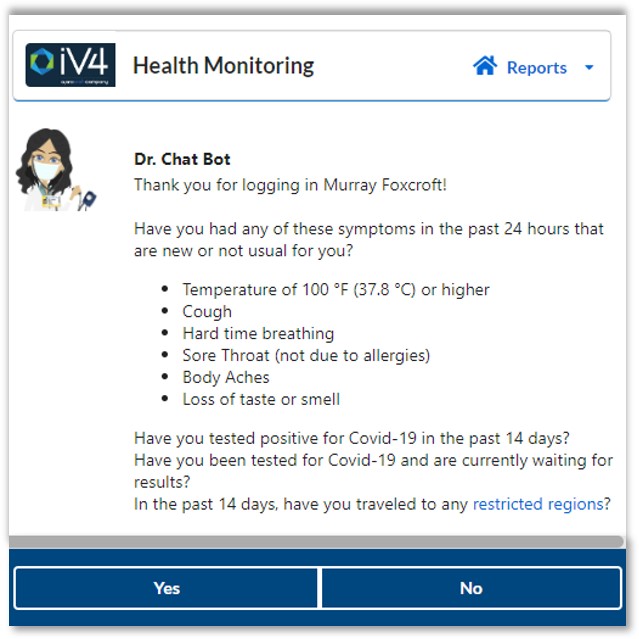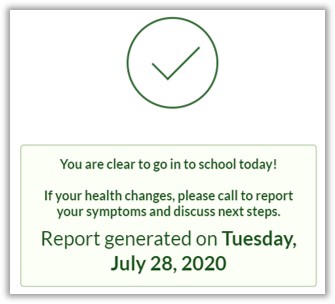 A clear visual indicator of a person's status that can be shown at distance for entry
If a user responds 'no'- a green check mark appears confirming the user has experienced no symptoms.
If a user responds 'yes' they have experienced symptoms- a message then appears instructing them not to report and the appropriate people to notify.
Tracking & Reporting
The COVID Health Screening Application tracks and reports on:
Anyone that is not confirming symptoms
Trends of symptoms that may impact re-entry plans
Those who may have been exposed
What's Included:
A responsive web application
Deployed securely in Microsoft Azure
Integrated with Active Directory

Accessible via a shortcut, URL or QR code

​

Customized branding, messaging, and terms and disclaimers language
Minor modifications by our agile team
See how ProArch helped one school district implement the COVID Health Screening App to screen and track students.
Reduce the chances of a widespread outbreak by knowing who has experienced symptoms in real-time.