What Is IT/OT Convergence? Here's What You Need to Know
February 22, 2023
What Is IT/OT Convergence? Here's What You Need to Know
Today's industrial and critical infrastructure organizations face a challenge to balance two traditionally distinct worlds:
operational technology (OT), a traditional world full of physical machines, devices, systems, and equipment; and
information technology (IT), a digital world of networks, applications, data, and servers.
More specifically, companies in the oil, gas, power generation, energy, aviation, manufacturing, and transportation industries have become trapped by siloed IT and OT systems. As a result, they are missing out on opportunities to improve operational efficiency and make more informed decisions.
But what is an IT/OT convergence, and why are these organizations driving it? Let's break it down. We'll explore the benefits, challenges, and roadblocks to overcome before leading your own organization through IT/OT convergence.
What Is IT/OT Convergence?
Before we jump straight into what IT/OT convergence is, let's break down the differences between IT and OT.
Operational technology (OT) focuses on the management of real-world devices that operate in the physical world. While IT is oriented toward networking infrastructure, data, and communication, OT refers to the specialized hardware and software used to monitor and control physical processes, such as manufacturing, transportation, and energy production.
Information technology (IT) includes any use of computers, storage, networking devices, physical devices, and infrastructure, as well as the processes to create, secure, and exchange all forms of data.
IT/OT convergence is the integration of previously isolated OT systems to IT networks. IT/OT convergence enables digital technology and data analytics to be leveraged to improve operations and optimize processes.
What's Driving IT/OT Convergence
IT and OT networks have traditionally been kept separate; now, the benefits of converging to allow for greater automation, a more stable framework, and improved control have surpassed the old way of thinking. More specifically, IT/OT convergence seeks to bring OT into the realm of IT to offer greater interconnectedness and seamless interoperability. The result is a single uniform environment for processes, insights, and controls.
The natural convergence of IT/OT has also been driven by evolving complexities within OT environments. OT systems have become interconnected: Assets that were siloed are now reliant on intersystem communications and smarter automated control links.
As systems have advanced, maintaining stability requires a framework that protects data and provides well-working systems. IT/OT convergence seeks to provide exactly that: a system that offers an easier analysis of data from complex systems.
Along those lines, the search for more significant data and insights has encouraged industrial and critical infrastructure organizations to streamline their IT and OT. Between strict compliance requirements and the need for strong OT security controls, IT/OT convergence empowers these teams to accomplish greater benefits—even as systems grow more complex and scale.
The Benefits of IT/OT Convergence
IT/OT convergence offers more direct control and complete monitoring, allowing employees to make better decisions and do their jobs more efficiently. Here are a few more benefits of IT/OT convergence:
Operational efficiencies, driven by streamlined data processing and better decision-making provided by a deeper analysis of the asset's ongoing health and performance
Cost optimization through improved budgeting and downtime planning
Improved compliance with regulatory requirements with enhanced visibility, management, and auditing
Less siloed departments, encouraging collaboration between areas of expertise
A holistic, automated approach to OT security
Improved resourcing, minimizing the need to hire full-time employees internally
Industries like manufacturing and power generation have embraced IT/OT convergence and are using it to their advantage.
Manufacturers can gain a complete view of their operations, enabling greater automation and predictive and root cause analytics, resulting in increased productivity and reduced costs.
Power generation plants can make better-informed decisions, reduce human error, and respond quickly to potential issues, leading to increased reliability and reduced downtime.
Leadership has access to alerts and protection against unproven or unplanned changes which can affect the manufacturing or power generation process.
Common Roadblocks to Address before Getting Started
The IT/OT convergence benefits are clear, but it's not always a straightforward path to integration. For example, IT OT convergence challenges can arise like misconceptions by employees or management staff can get in the way of full adoption. Organizations can also leave themselves open to potential risks if they don't follow best practices.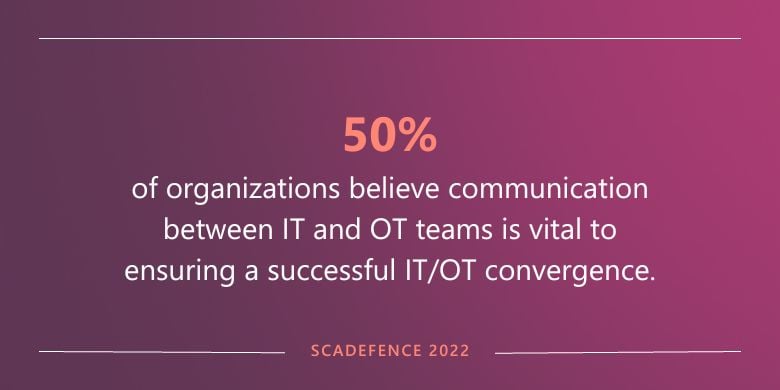 Here are the roadblocks you'll need to address before moving forward:
Maintaining IT and OT security to protect against data loss, extended outages, and other risks
Integrating well with legacy systems and understanding their performance and security limitations
Difficulty reorganizing previously siloed IT and OT departments—especially with skill shortages
Training employees to help them understand the effects of the convergence
Developing a training and hiring plan to fill any gaps in skills
With a strong foundation for your convergence, you'll be well-prepared to achieve greater results.
Working with a Partner to Converge IT and OT
Luckily, you don't need to handle your IT/OT convergence alone. Working with a partner can help you implement best practices for IT OT convergence and ensure no gaps are left unfilled.
ProArch's practice areas cover both IT and OT, and our expertise in the power generation industry and manufacturing sets us up well to help your improve IT and OT security, leverage insights for proactive maintenance, and create a long-term strategy that enables growth while mitigating risk. Reach out to us.