What Is Endpoint Detection and Response (EDR)? Here's Why All Organizations Need It
October 11, 2022
What Is Endpoint Detection and Response (EDR)? Here's Why All Organizations Need It
In 2021, there were 50 percent more cyberattacks per week compared to 2020. Every day, cyberattacks are becoming more frequent, targeted, and complex, and this trend isn't declining any time soon.
As organizations adopt new services through digital transformation and adopt remote work, the attack surface grows. Endpoints are a prime target for attackers because misconfigurations are common, and traditional endpoint security technologies can't keep up.
Now more than ever, leaders must harden their endpoints to prevent a damaging breach. Endpoint Detection and Response (EDR) is a great option for organizations that are concerned about the shift to remote work and lack visibility into their endpoint threats and the skills to respond. Let's explore what EDR is and three ways it can improve the security posture at your organization.
What is Endpoint Detection and Response (EDR) ?
Endpoint Detection and Response is an advanced endpoint security solution that continuously detects the events and behaviors of any physical device, no matter where it is, including desktops, phones, workstations, tablets, and servers. Providing a holistic view of correlated events and data, EDR prevents attacks, such as malware and ransomware. When a breach is detected in your infrastructure, the security operations center (SOC) performs threat hunting and investigation to contain the threat before it affects your environment.
Adopt an Assume-Breach Approach to Security
There has been a significant expansion in the digital attack surface for every organization, and attackers are becoming more sophisticated and successful in exploiting vulnerabilities.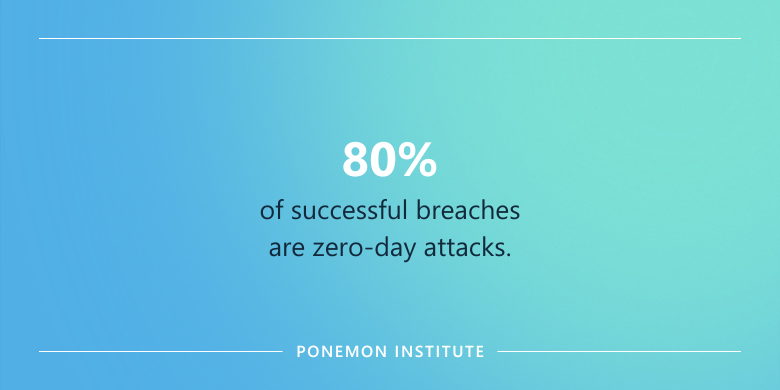 For example, zero-day attacks—i.e., threats that are unknown to security researchers—have become commonplace. In fact, an estimated 80 percent of successful breaches are zero-day attacks.
In response to these advanced attacks, companies must adopt an assume-breach approach, a mentality that assumes cyberattacks are inevitable. When organizations assume a breach, they are able to adopt a more preventative approach to security rather than waiting for risks to enter their ecosystem before responding.
By investing in Endpoint Detection and Response services, your organization will have the people, processes, and technology that inherently assume breach and are prepared to respond. EDR services provide visibility into endpoint activity in real-time, detecting potential threats such as zero-day malware before they spread beyond an affected device.
Utilize Real-Time, Proactive, and Retroactive Insights
Human error is one of the greatest security threats for organizations, with an estimated 82 percent of breaches involving a human element like social attacks, errors, and misuse. Between these risks and the rise of remote work and device choice, many companies lack sufficient visibility into their vulnerabilities.
EDR is a great way to combat these issues. It is designed to provide end-to-end insights into your staff's managed devices, preventing attacks in their earliest stages. Not only are these capabilities both proactive and in real-time, but they can also be retroactive, providing insight into older attacks.
By investigating the previous activity of a vulnerable device, EDR identifies if an endpoint has been penetrated by an attacker before, enabling your team to study an attacker's tactics and exploits while searching for those indicators across all EDR-protected endpoints. Evaluating a broad range of data to find suspicious activity at all times, EDR solutions can identify known and unknown artifacts, activities, and behaviors to give your team a comprehensive view. Because you have little time to respond, you must trust your solutions to prevent damage immediately. EDR is equipped to do exactly that and more.
Rely on All-Hours Support
Without the budget and bandwidth for round-the-clock coverage, your team isn't able to monitor for threats 24/7. However, just because your team is on vacation or goes home at 5 p.m., it doesn't mean attackers are resting. Researchers found that there is actually a 30 percent increase in ransomware attacks over the holiday season.
With EDR, you can cover security risks without intervention from your internal team. EDR allows you to go about your day—or vacation—without an immediate response from you. Plus, its auto-remediation capabilities provide you and your administrators with the peace of mind needed to focus on other proactive initiatives that can drive growth at your company.
Endpoint Detection and Response platform is a core requirement for all organizations. This solution should be a core element of all security strategies, providing a layer of protection that builds on other best practices. While many hesitate to invest in a vendor that configures, manages, and implements EDR until it's too late, the best time to do so is before you've experienced an attack.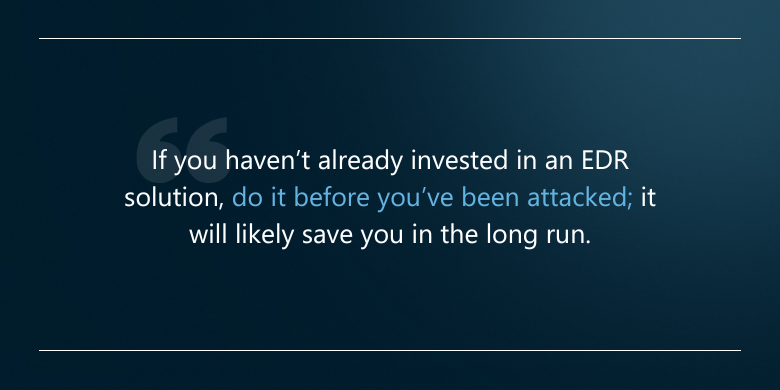 If you haven't already invested in an EDR solution, do it before you've been attacked; it will likely save you in the long run.
Finding a Proactive EDR Partner
Leveraging EDR requires a partner that can help reduce the burden and concern of running a 24/7 security operations center (SOC). The best partner will be client-focused, dedicated to protecting your infrastructure rather than selling a service. Plus, they will be proactive, looking ahead at the best advancements to integrate within your security initiatives. From SOAR to threat intelligence, they will focus on spending less time closing out false positives and more time securing your enterprise.
At ProArch, we can protect your endpoints, your data, and your bottom line. Learn more about our Managed Detection and Response services including EDR, IDR, and XDR.