Webinar Recap: The Secrets to Maximizing Microsoft 365
July 21, 2022
Webinar Recap: The Secrets to Maximizing Microsoft 365
Microsoft 365 is a powerful tool, but too many companies are leaving some of its best capabilities on the table. To show business leaders how to unlock the full potential of this service, ProArch hosted a 30-minute webinar, "The Secrets to Maximizing Microsoft 365." James Spignardo, ProArch's VP of cloud and infrastructure, and Greg Dodge, ProArch's cloud and infrastructure solution architect, shared what companies are missing out on and how to ensure you are maximizing your ROI.
Keep reading for some of the key takeaways from the webinar, or click here to watch the recording on-demand and access the accompanying slide deck.


The Risks of Failing to Modernize
Today's post-pandemic workplace faces new demands, both internally and externally. Organizations must balance employee expectations of flexible, collaborative work environments with mitigating outside risks, such as cybercrime, but many have only scratched the surface with these initiatives.

"Most organizations that we've worked with . . . have moved things like email workloads and even file and print workloads," Dodge said. Those initiatives are "what we would consider the low-hanging fruit. They've started to utilize the terabytes of storage that are in the cloud and all of the different things that are available to them."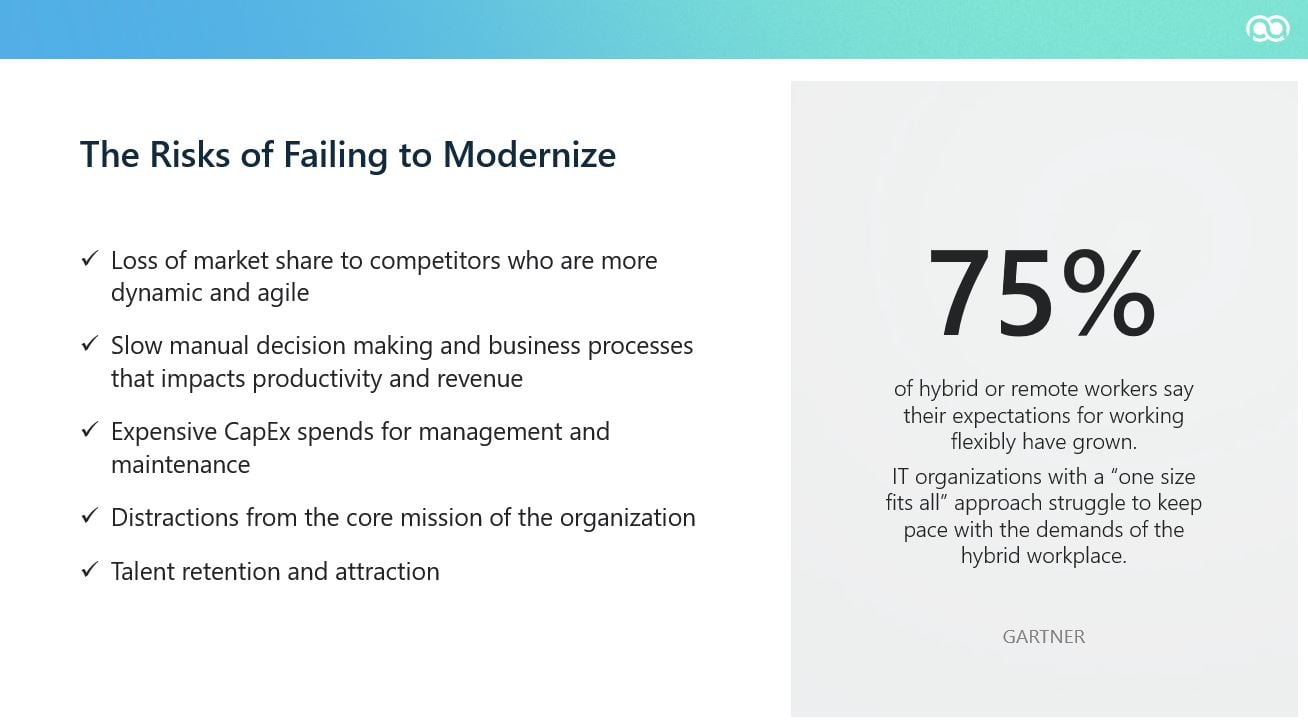 From the slide deck of The Secrets to Maximizing Microsoft 365 presented by ProArch.

But if your company doesn't modernize beyond small steps like that, there are risks. You'll miss out on market share, make slower decisions, and find it hard to attract and retain talent.
Keys to a Successful Migration and Modernization
Modernizing your workplace brings many benefits. One of these includes being able to spend less time on manual, maintenance-type tasks and instead focus on revenue-driving activities. Another benefit is being better able to reach your goals, including sustainability goals. But how do you achieve these ends?

Dodge emphasized how important it is to take advantage of cloud services.

"Just because it was made and it was done that way doesn't mean it has to be done that same way again," he said. What's needed is "a reevaluation of what different systems do."

Other keys to success include the following:
Modernizing your data estate

Decreasing your time to market

Improving security and compliance

Supporting hybrid IT estates
Things to Consider When Migrating and Modernizing
First, it's important to know that "there is no such thing as a seamless migration; it's a myth," Dodge said. "Use that to your advantage and tell [users], 'We're moving forward, and things are going to get better.'"

As you move forward with your initiative, ask yourself a few questions:
What's the immediate business need?

How hard is it to do?

What are our longer-term business goals?
Microsoft 365 represents a large software expense for most companies, but it is rarely used to its full potential.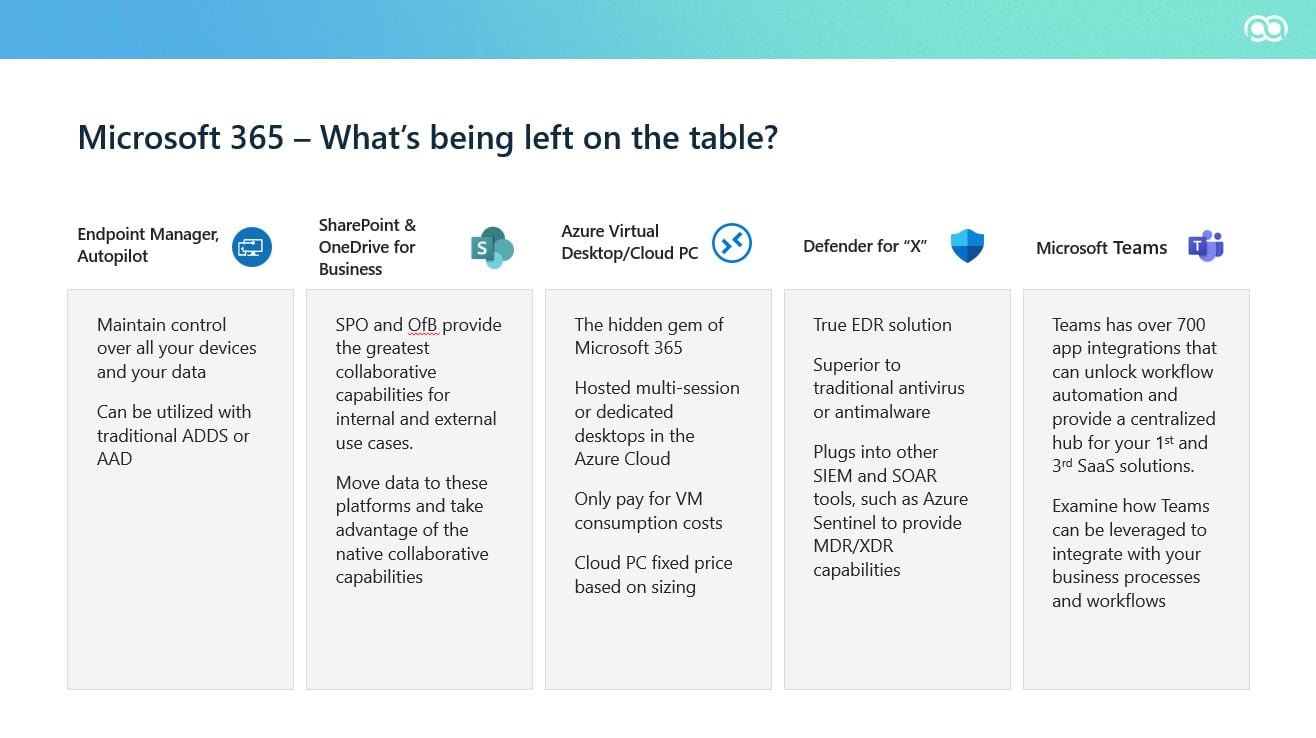 From the slide deck of The Secrets to Maximizing Microsoft 365 presented by ProArch.
"I would hazard a guess that many organizations are using these tools, but they're not using these tools to the extent that they could and actually unlocking those real, great collaborative capabilities," Spignardo said. "So the real message here is a move that data—move that data to these platforms and take more advantage of what's available to you."

Watch the webinar on-demand to learn what Microsoft 365 capabilities you may be missing out on and the key best practices for maximizing your investment.