All About Azure Migration: 3 Methods for Moving Your Data and File Shares
March 9, 2023
All About Azure Migration: 3 Methods for Moving Your Data and File Shares
No one cares more about your data than you do, so moving it to the cloud for better protection and accessibility just makes business sense. Moving data and file shares to the cloud can help you better protect, access, and utilize them to make well-informed business decisions.
However, migrating on-premises file shares to Azure is a significant effort—not to mention a big cultural shift. Luckily, the benefits of having them in the cloud provide more than enough motivation to ditch the risk of leaving your valuable data relying on outdated technology.
In this guide, we'll explore how you can accomplish your Azure migration and ensure that the migration of your data and file shares is well-managed and no gaps are left unfilled. We'll also help you ensure you optimize the benefits of your migration. Let's dive in!
Identify Your "Why"
Before you get started, you need to answer a key question: "Why are we migrating?" There may be a number of reasons why you've decided to start your Azure migration, including the following:
Cost optimization
Reduced reliance on on-premises IT infrastructure
Improved cybersecurity
Easier access for remote workers
Once you've determined your purpose, you will need to make sure everyone on the team is also crystal clear on what your reasons are; otherwise, you will likely face resistance to this type of change. When you have that, you'll be ready to identify the approach you want to take.
Take a Crawl, Walk, or Run Approach to Migration
Moving your file shares to the Microsoft cloud involves three approaches that have a proven track record of success. You can think of these as the crawl, walk, and run approaches.
The Crawl Approach involves replicating your file server to Azure File Shares.
The Walk Approach includes lifting and shifting your file server to Azure IaaS.
The Run Approach leverages the terabytes of storage in your Microsoft 365 subscription to move the files to SharePoint Online and OneDrive.
The Crawl Approach
If your file server is running on hardware that is near end-of-life, or if you would simply like to add another layer of failover, then the crawl approach might be for you.
With this approach, your team can use Azure File Sync to replicate your file shares to cloud storage over a network. In Azure storage migration scenarios you can also choose to use Azure Data Box to migrate files in bulk.
Here's how Azure File Sync works. First, it spans two Azure resources: 1) Azure storage account and 2) Storage Sync Service. An Azure storage account represents a shared pool of storage in which you can find and deploy multiple file shares and other storage resources, such as blob containers or queues. A Storage Sync Service allows you to cache Azure file shares on registered servers, which are Windows file servers with an established trust relationship with Azure File Sync. The service also allows you to move sync groups, which define the topology of the sync relationship.
There are two states to this approach:
A hybrid deployment using Azure File Sync to cache the content of Azure file shares on premises (or cloud). This option is great for business continuity and disaster recovery (BCDR) purposes.
Direct deployment of Azure file shares in the cloud after the on-premises file server has been decommissioned.
In both states, users continue to access the file shares using drive letters. If paired with Distributed File Services, the failover connections will automatically merge to the cloud when the on-premises file server is unavailable.
Users can connect to an Azure file share in two ways:
Accessing the share directly via the SMB or FileREST protocols: This access pattern is primarily employed to eliminate as many on-premises servers as possible after they are replicated.
Creating a cache of the Azure file share on an on-premises server (or Azure VM) with Azure File Sync and accessing the file share's data from the on-premises server with your protocol of choice (SMB, NFS, FTPS, etc.) for your use case. This access pattern is handy because it combines the best of both on-premises performance and cloud scale and serverless attachable services, such as Azure Backup.
The image below shows that more than one file server or share can sync with the Azure file shares.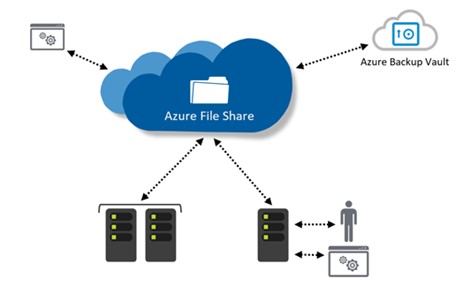 The Walk Approach
A walk approach for your data migration with Azure might be the best fit for your organization if you have stable and functioning existing applications but the underlying physical infrastructure is outdated or becoming costly to maintain.
The walk approach is often used when the primary goal is to quickly achieve the benefits of cloud infrastructure—such as scalability and security—without the need for major redesign or reconfiguration.
This approach uses a cloning process that utilizes either the Azure Migrate tool or the Azure Site Recovery (ASR) and failover feature. If you are only moving one server to the cloud and you already have a good idea of the resources needed, the ASR approach is the quickest. If your file server is one of many being moved and you would like more flexibility in the target workload, then the Azure Migrate approach should be used.
The Azure Migrate tool provides a simplified migration, modernization, and optimization service for Azure. All premigration steps—such as discovery, assessments, and right-sizing of on-premises resources—are included for infrastructure, data, and applications.
The Azure Site Recovery Service contributes to your BCDR strategy in addition to migrating Virtual Machines to the cloud. Site Recovery helps ensure business continuity by keeping business apps and workloads running during outages. Site Recovery works by replicating the workloads running on physical and virtual machines (VMs) from a primary site to Azure. Once replicated, the failover servers can be moved to the cloud, and the on-premises server can be decommissioned.
Based on your organization's needs, you can determine which tool would be the most efficient. Keep in mind that in some cases, servers hosting file shares already have other software installed or serve purposes other than being a file server that might exclude them from being decommissioned. Examples include domain controllers, ERP systems, or any third-party software that you cannot remove.
Essentially, cloning the server through Azure Migrate or Azure Site Recovery looks like the following: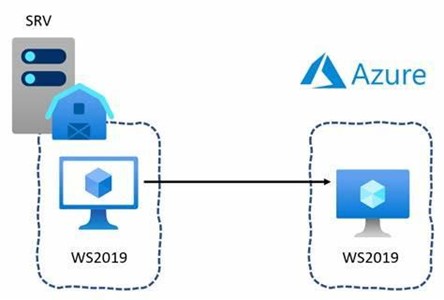 The Run Approach
Migrating on-premises file share content to Microsoft 365 lets you collaborate with innovative Office apps, intelligent cloud services, and world-class security. You're already paying for this storage in your SaaS licensing, so why not utilize it?
The run approach includes more than just a pure migration: It also involves the modernization and refactoring of your data. Although there are technologies that allow users to still use drive letters, this approach works best when they access the data through the built-in integration of the Microsoft 365 suite and modern applications like Office 365.
Microsoft Migration Manager helps you get your data to Microsoft 365. With the ability to set up multiple computers as "agents," Migration Manager lets you scale your migration project as much as you need. Located in the modern SharePoint Admin Center, Migration Manager guides you through the setup of your agents and the creation of your tasks. You can also specify global or task-level settings, view all-up task progress, and download aggregated summary and task-level reports.
File shares can also be migrated to SharePoint Online Libraries or Teams sites depending on your organization's current structure and security requirements. For example, a departmental migration might look like this: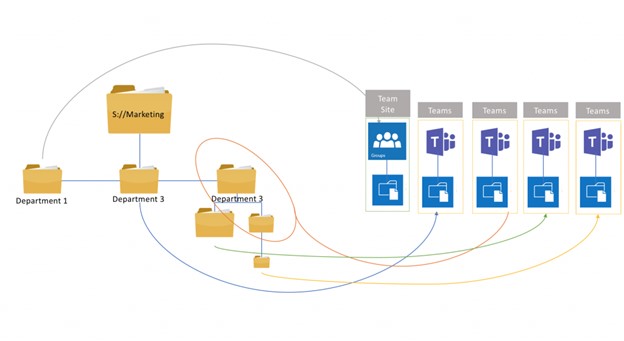 Moving on-premises file shares to the cloud can offer greater flexibility, accessibility, and cost-effectiveness—all while providing enhanced security and reliability features.
The best approach to Azure migration depends on your business requirements and objectives. As a top Microsoft partner, ProArch can help you migrate and optimize your Azure environment for better security and efficiency that enables your business to grow. With a proven Azure migration strategy guided by a team of experts, we can help your organization move to the cloud with confidence.