An Open Letter: How to Defend Your Business from Cybercriminals
July 14, 2021
An Open Letter: How to Defend Your Business from Cybercriminals
Written by Ben Wilcox, Chief Technology Officer (CTO) of Security and Cloud. Originally published on LinkedIn.
I'm excited to announce that I have been appointed the new Chief Technology Officer (CTO) of Security and Cloud at ProArch! In this position, I will find new ways to use digital technology strategy and innovation to accelerate the growth of our clients' business. I'm grateful for the opportunity to grow with them.
On the flip side of that, it is not lost on me that I stepped into this position at a time when cybercrime is at an all-time high. We've all seen the headlines. Since the pandemic hit, there has been a huge uptick in high-profile ransomware attacks and data breaches. Soon, we will begin to see more supply chain attacks and critical business data being compromised. This won't just include software like SolarWinds, but also hardware suppliers.
As the new CTO of Security and Cloud for ProArch, I'd like to start a dialogue with the business community about the current threat landscape and hopefully arm organizations with the knowledge and insight to protect themselves. Too often I see organizations not being proactive until it is too late, and their business has suffered some sort of loss or fiscal impact at the hands of cybercriminals. I'm here to keep that from happening to you.
How to Move Forward
Unfortunately, there is no silver bullet when it comes to stopping attacks. Security technology alone does not solve security problems. No vendor can guarantee you are 100% secure. It's a combination of the right people, processes, and technology used that truly reduces risk.
Today, it is imperative to approach security initiatives as business enablers and revenue generators. That being said, I understand implementing a new security program is complicated and costly. An organization needs to hire a 20+ person team of threat hunters, analysts, pen testers, and compliance experts to maintain all the moving parts a holistic program requires.
But the reality is security is now a boardroom conversation and your customers and partners expect a certain level of threat defenses to be in place.
Change the Perspective: Cybersecurity as a Business Enabler
Every time another headline hits, companies scrambling to protect themselves will ask us, "Can't we just buy [insert tool or service here] to stop this from happening to us?"
Too many business leaders see security as a cost center rather than a potential driver of growth. If I could tell every executive one thing, it would be this: security is not an IT department issue, it's an organization-wide issue. To defend ourselves against such attacks, we must have tools in place that can protect us by detecting anomalies, as well as the people, policies and processes developed to secure our data and respond to vulnerabilities. When you combine proactive cyber security initiatives with strategy, businesses can differentiate themselves and build trust with customers.
My ultimate goal as the new CTO of ProArch is to make the business community safer for executives, employees, and consumers alike. Together, we can.
Please don't hesitate to reach out to me with any questions. I want this to be part of an ongoing dialogue with the business community and look forward to getting a broader understanding of the needs of our clients, as well as how we can bring more value and business outcomes to our customers through technology.
Stay safe out there!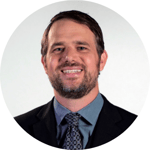 Ben Wilcox